Tel.: (829) 201-1403
(For Pricing and Availability. We are also available in WhatsApp)
Includes: Transportation, soft drinks and guide.
Welcome the Paradise!!! With the Sosua Beach Tour!!! Sosúa Beach is one of the most beautiful and diverting beaches in the country, it is 24 km far from Puerto Plata, in the Dominican Republic. This beach is well-known for its good natural conditions, its luxuriant vegetation and its crystal-clear waters, which are inhabited by a rich submarine ecosystem.
Here, you can practice several aquatic activities like snorkeling or diving. Moreover, during your staying you can visit Tres Pilotillos, the beach's old harbour, which is a Dominican symbolic spot and that has become a referent for tourists.  
Sosúa Beach is surrounded by lots of restaurants and bars where you can taste the typical Dominican delicacies. Furthermore, the beach is in an excellent location, because it is close to Sosúa Village and Alicia Beach which is a small paradise that spontaneously appeared in 2003, it is very frequented by the locals due to its sand and waters' quality.
Winter whale watching, move over. Snorkeling is fast becoming one of the most popular hobbies in Sosua!!  
You can rent your gear from a vendor right on the beach, then head into the water to explore what exists within the almost impossibly blue, clear waters that are almost always calm enough that children can snorkel here as well. 
Sosua Bay is the most popular snorkeling destinations because it is sheltered by a spectacular reef that is interesting to look at for its intricate nature, but also because the diverse types of fish and other sea life that make their home here.  Another beach has just opened next to the bay called Playa Alicia which also features great snorkeling conditions. 
Amber Cove Port Map: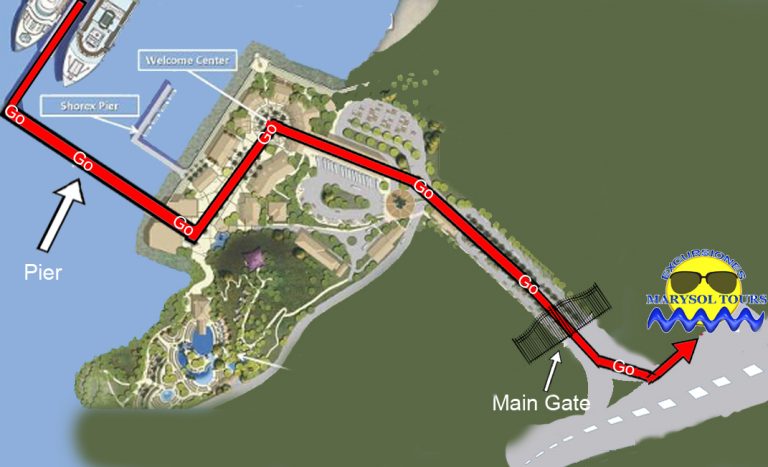 This is the meeting point, you will have to walk out for around 12 to 15 minutes from the Port to the Highway, and when you get there please turn to the Right side to meet our guides, they will be holding a Marysol Tours sign and your name.