Per ATV:          USD 85.00
Price is for Rented Unit (could be for 1 or 2 persons)
Includes: Helmets and Guides. You'll be able to drive for 3 hours through small rivers, streams and visiting villages, a minizoo, a stop at Playa de Teco for 20 minutes and rivers.
About the ATV Quad Tour!!
Looking for the ultimate adventure excursion in Puerto Plata? Enjoy a fast and muddy trip through some villages and rivers in Puerto Plata while contemplating the vast nature and colors that Dominican Republic can offer to you and your family with the ATV Quad Tour. It's a great tour for people that would like to have a different approach to Puerto Plata.
An all-terrain vehicle, also known as a quad, is a vehicle that travels on low-pressure tires, with a seat straddled by the operator, along with handlebars for steering control. This excursion has so much fun! Make sure to wear clothes you don't care about and bring a bandana to put around your face to prevent the mud going to your mouth.
The rider sits on and operates these vehicles like a motorcycle, but the extra wheels give more stability at slower speeds. Also dirt bikes, considered to be ATVs as they were designed for off road use only. Although most have three or four wheels.
The trip is all about Nature at the ATV Quad Tour… there's no rush!
It's a great chance to discover real Dominican life in the country and take in the magnificent landscape spreading from the mountains to the sea. You will see coffee and cigars samples and also you can experiment to handmade it. An unforgettable day for everyone!
It will take around 2 minutes from the port to arrive to the Quad Ranch. You can drive your own 4 wheel machine. After that, we can stop at Playa del Teco for around of 20 minutes.
What to bring with you
Sunscreen
Sunglasses
Towels
Bandana (to cover the mouth)
Camera
Water-shoes or sport sandals with a back-strap
Swimsuit
Amber Cove Port Map: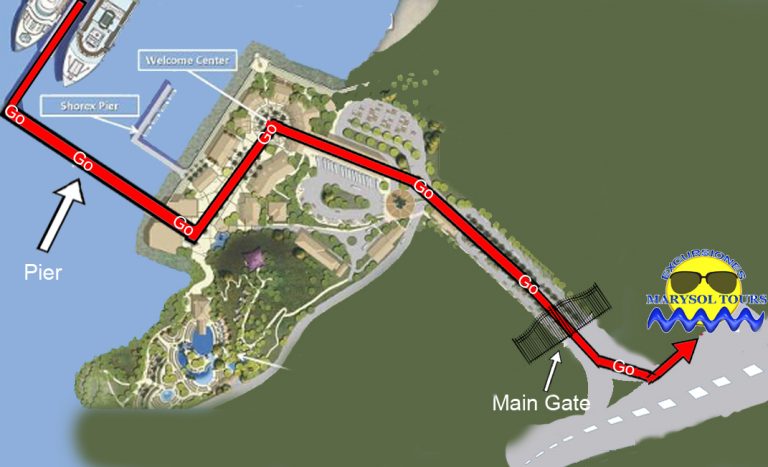 This is the meeting point, you will have to walk out for around 6 minutes from the Port to the Highway, and when you get there please turn to the Right side to meet our guides, they will be holding a Marysol Tours sign and your name.