Per Person:          USD 50.00
(Children from 4 to 6 years old can ride with their parents if they don't have experience. Children under 3 years old are not allowed.)
Includes: Transportation back and forth, bottles of water, helmet and english guides. This tour will be for 3 hours ride. We will drive you from the entrance of the port for around 2 minutes to the Horses Ranch. The horse ride will visit the Dominican Villages, sightseeing of the Nature where you will learn how is coffee made, you will see some coconuts palms trees, and a Ride to the beach.
About the Horseback Riding Tour at Maimon Amber Cove Port!!
It will be our great pleasure to show you this wonderful tropical paradise on this horseback riding tour. Ride on trails of crystal clear waterfalls cascading down the rocks, to hidden beaches, mountain tops with breath taking views of the ocean, emerald green hills dotted with small wooden houses surrounded by tropical flowers, and more!! Our island is always green and has a lovely climate all year round.
Horseback Riding is one of those can't-miss activities while on your vacation. There is no better way to see the beauty of the Dominican Republic and its coastline, culture, and landscapes. Begin your journey with a scenic ride out to the horseback riding excursion base camp located on a private ranch nestled in the beautiful Dominican countryside.
Horseback Riding Tour around Dominican Villages, forest and on the Beach.
After a brief instruction session you will strap on your helmet, mount your horse and make your way through lush vegetation, fun trails, and small streams as you leave the ranch behind. Your bilingual guide will provide you with information regarding this beautiful part of the Dominican Republic as you pass by small houses, quaint farms and more as you make your way to Playa de Teco, an unspoiled stretch of sand and surf.
Upon arrival take a refreshing dip in the water, grab some stunning nature photos or just relax on the sand and enjoy the real Dominican Republic.
The horses are well cared and take pride in the ranch care program where you can groom, bath and feed our horses. Together with our qualified English speaking guides everybody can ride, whether you are new at this or an experienced rider, we will teach you to trot, canter or gallop, whether you're young or old. The ranch and the horses with their big hearts welcome you to feel, smell, touch and immerse in the nature of our tropical paradise. So saddle up and lets go!
What to bring with you
Sunscreen
Sunglasses
Towels
Camera
Insect repellent
Water-shoes or sport sandals with a back-strap
Swimsuit
Horseback Riding Safety
The tour guides will tell you the horses name and temperament and teach you how to mount onto their backs. Everything you need to know about how to signal to the animal when you want to go faster or slower, left or right, will be explained to you. The horses are very well trained and they know which path to take so you don't need to worry about doing much handling. Also, guides are at the front and back of the pack to make sure everyone stays on course and is safe.
It is important when on a horse to practice proper posture. Sit tall, yet relaxed and don't forget to breathe. You need to use your muscles and posture to stay mounted. When you put your feet in the stirrups, your guide will adjust them to your height for you, after that make sure you have your heels down and point your toes out.
Benefits of Horseback Riding
The benefits of horseback riding are fascinating since it is great for your core, pelvic strength, and inner thigh strength which do the bulk of the balancing. Mentally, being on a horse is very meditative, when riding you must focus on balance, and the actual ride, will clear your mind of the many other distractions you might think up on a regular day. On a slightly spiritual level, horses are very intuitive creatures and pick up on the slightest amount of tension. They are very connected to their rider, and a lot of people say they feel connected to their horses while they ride, too.
Amber Cove Port Map: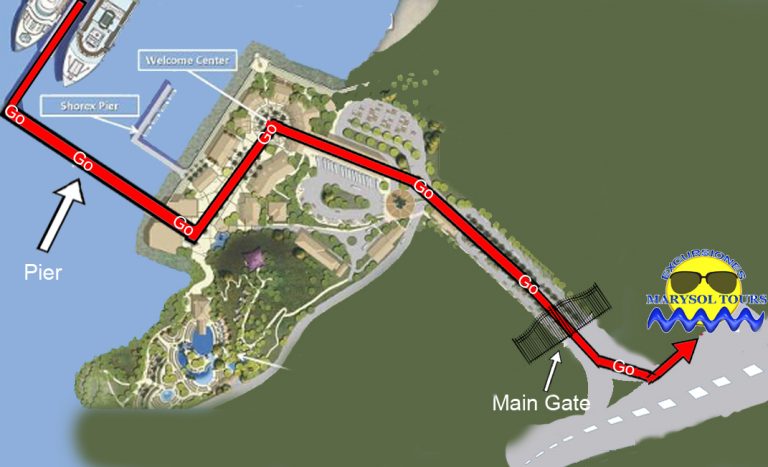 This is the meeting point, you will have to walk out for around 6 minutes from the Port to the Highway, and when you get there please turn to the Right side to meet our guides, they will be holding a Marysol Tours sign and your name.